Ready to take on building an entertainment center for your family room? It's not as difficult as you might think. So if you're willing to invest the time and effort, you can create your own custom built-in for a fraction of what the professionals charge. Read on to find out how we designed and created this piece in just a week!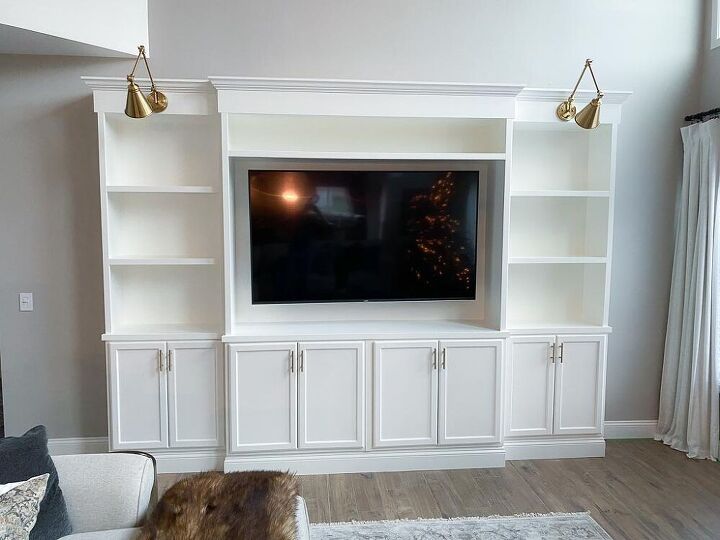 This post contains affiliate links. Please see my full disclosure policy for more details.
How much does it cost to build a built-in entertainment center?
Initially, we went the route of reaching out to a professional contractor to get a bid on a custom media built-in. I was expecting it to be on the expensive side, but my jaw dropped at the $5,500 price tag. No way could I justify spending that much on piece of furniture. Especially when we still had so many repairs and upgrades to make in our home. So we put it off for about 2 years until we were more confident in our (errr, my hubby's) DIY abilities. Although I do take full credit for the design plan.
Our new custom entertainment center came in at a total cost of around $1,100. That's including all building materials, finishing details and paint. Not too shabby compared to the original contractor's estimate of $5,500 right? It definitely pays to DIY.
diy built in entertainment center plans
This was the initial direction we wanted to go in for our entertainment center design. And I'm actually really glad we waited to go through with it. I completely changed up the design after getting tired of the all shiplap trend. Don't hate me, I still love Joanna Gaines, I just don't want my home to feel like everyone else's.
Plus this new design is a bit more modern and clean looking. Which is what I'm really into right now.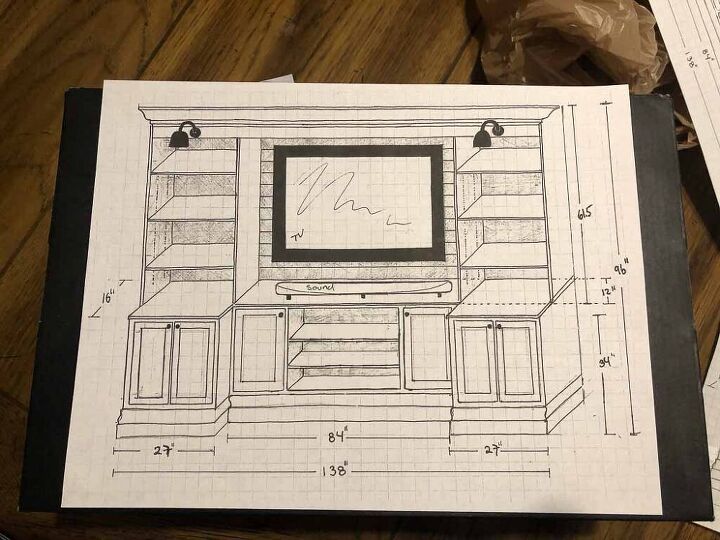 Our main wall in our living room is fairly large and tall so I wanted to make sure the size of our built-in was proportionate to the wall. And boy is it! At over 8 feet tall and around 11 feet wide, this thing is massive.
One of the biggest decisions of this DIY entertainment center was how to create the built-in media cabinets for the lower portion. And an easy hack was just to use pre-made wall cabinets from Lowe's. Why wall cabinets? Because they're half the depth of traditional base cabinets, and I didn't want to see the indented toe-kick portion where the cabinets meet the floors. Also, using pre-made cabinets meant one less thing to actually build for this project.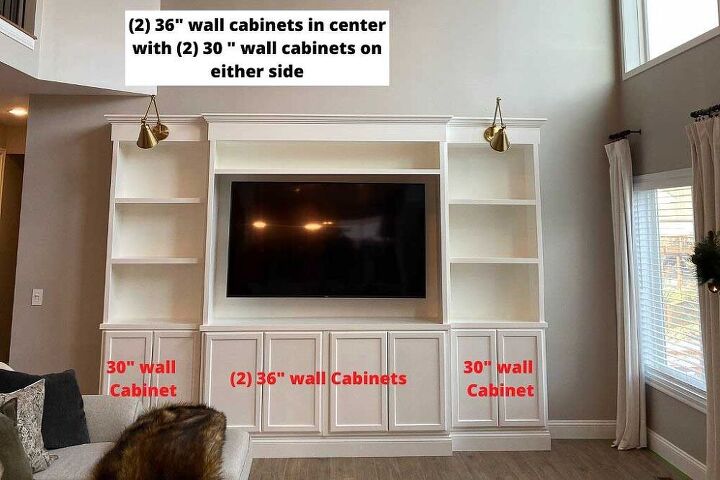 You can see how we used these same type cabinets in our bathroom vanity makeover here.
How do you build a built in entertainment center?
Since we were pretty much winging the build on this project, I didn't bother capturing step-by-step photos or specific measurements. But I can give you a breakdown of the exact materials we used to construct it, along with a general guideline of how it was assembled.
Materials Used for the DIY Built-in Media Center
(2) 36″ wide wall cabinets
(2) 30″ wide wall cabinets
crown molding
5 1/4″ MDF baseboards
1/4″ sanded plywood for sides of base cabinets
3/4″ sanded plywood for shelving units (upper structure)
1×6 boards for platform base
MDF panel for backing of wall unit
1×6′ MDF boards for top trim
1×4″ boards to brace the unit to the wall
1×2″ MDF boards for shelving unit trim
caulk
Wood Filler
Benjamin Moore Advance Paint in Satin Finish
Stix Primer
Brass door pulls
Brass wall sconces
Please Head On Over To Next Page Or Open button and don't forget to SHARE with your Facebook friends