Our backyard area was in dire need of help! This is how we transformed our "weed garden" into a more manageable space. You can also check out my blog for the full details: www.alchemy-home.net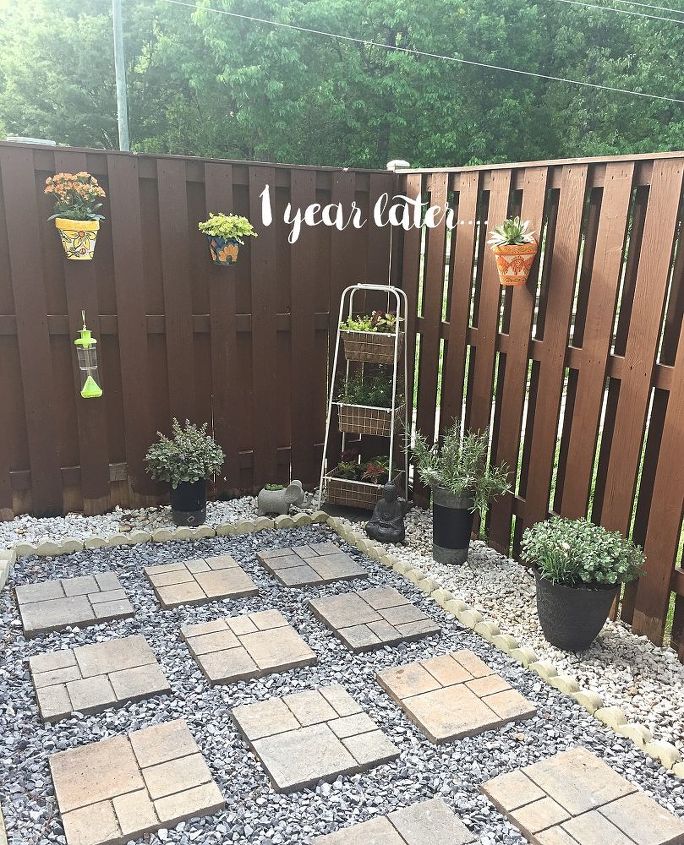 ***Update**** The response to this post has been overwhelming, thank you all! I had no idea that this would be viewed and shared so many times when I originally posted it; my husband and I now like to lovingly refer to our patio as "the most controversial backyard on the internet" 🙂 If you're seeing this for the first time, you can skip over this part and come back later!
It's been nearly a year since we redid our back patio space, so I thought everyone might like to see an update on how it looks after going through the seasons, and I'll answer a few of the burning questions I keep seeing in the comments section.
This picture is with literally almost no maintenance over the past year (besides the new plants I just added last week!) When I said we wanted something more manageable and functional, I wasn't kidding…and this totally fit the bill. You can see we never got around to adding more rocks, so some of the pavers are still a bit high (though we are planning to this weekend, I wanted to show a true "1 year later" picture beforehand).
We do have a concrete patio around the same size that borders this area, which is where we have our table and chairs, and this "makeover" has really made our backyard a lot more serene and low maintenance (which was the ultimate goal)!
Click 'Next Page (>)' to keep reading and don't forget to SHARE with your Facebook friends