One afternoon, hubby and I went for a drive and stopped at one of those kind of scarey road side "sale" buildings. You know the kind of place, dark, smelly, and a tad like something out of a horror flick. Anyway, we stumbled across this set of end tables. They had seen better days, but we quickly saw the potential! So, after a bit of haggling, a run to the atm to get cash, we purchased them for $12. Loaded them into the truck and brought them home…then the fun began!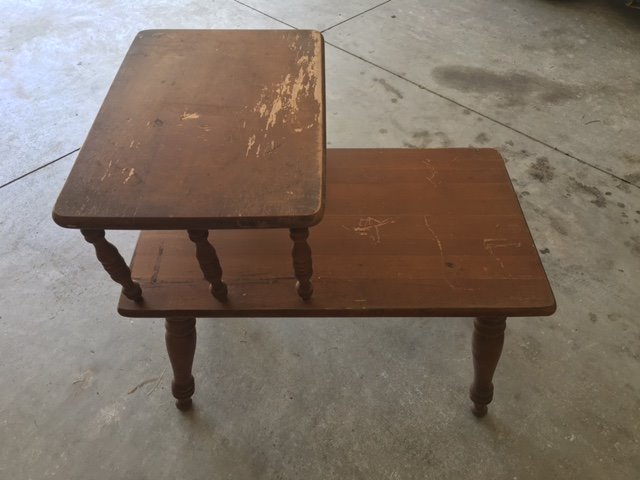 Here you can see one of the tables before we started. Some people just don't see the potential, but we do! Nothing makes me happier than deciding what to do with a piece that will bring it a whole new life.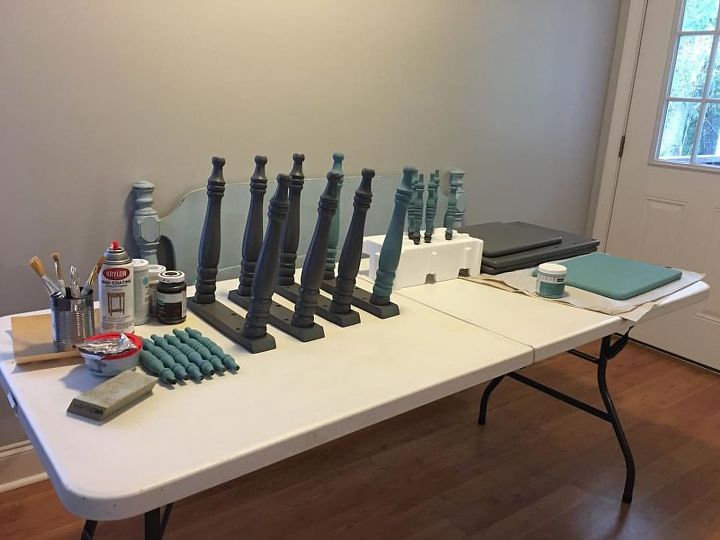 I know, I know, I missed some pictures. At this point if you follow any of my projects, you know I always manage to miss taking some. Anyway, here is the setup I had going for this project. We took the tables apart, sanded them down, base coated everything. For this project, I base coated in granite gray. I thought the gray basecoat would look cute with the seafoam chalk paint. Here you can see the table tops (on the right), the legs, and all the spindles. To make drying the spindles easier, I found a piece of foam, punched holes in it and stuck the spindles in to keep them upright while drying! After chalk painting, I distressed to allow some of that gray to show! Then it was time to reassemble the tables.
Click 'Next Page (>)' to keep reading and don't forget to SHARE with your Facebook friends