The Right Way to Weatherstrip a Door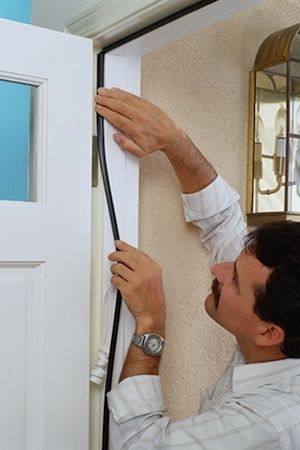 STEP 2
Weatherstripping comes in a variety of materials. Each has pros and cons. Felt weatherstripping offers the benefits of being cheap and very easy to cut and install, but because it's not very durable, it's best confined to rarely used doors. Marginally more expensive is easy-to-install foam weatherstripping. Though foam wears better than felt, neither boasts the durability of rubber, the most expensive option. Rubber insulates well, but it can be somewhat challenging to install. Unlike the other options, it often must be nailed into place.
STEP 3
With your chosen weatherstripping at the ready, proceed to cut three pieces—one for the top, and two for the sides. If the product features an adhesive back, peel it away and press it into place around the perimeter of the door jamb, not the door itself. Even if your weatherstripping has adhesive, you may wish to reinforce the installation with heavy-duty staples or small tacking nails. Either will help keep the weatherstripping in place over time.
STEP 4
To complete the job, install a sweep along the bottom of the door. The most common type of door sweep consists of a metal band from which a strip of rubber juts down. When the door opens, the rubber flexes so as not to be an impediment, and when the door closes, the rubber provides a strong air seal.
Door sweeps come in standard sizes, but if you cannot find one whose width matches that of your door, you can use a hacksaw to cut the sweep down to size. Attach the right-size sweep to the door using the screws provided. Because these screws tend to be small and not self-tapping, it's best to predrill holes for them by means of an electric drill/driver. Position the sweep so that it seals tightly against the threshold.
From start to finish, the door weatherstripping process should take no longer than an hour. That's a small time commitment to ensure that you remain comfortable through the winter, without spending a fortune on to keep the house warm. Though it's a simple project, weatherstripping really is one of the most effective ways to stop drafts and the discomfort they cause.