Thank you for supporting this site with purchases made through links in this post.
So you've heard of Castile Soap, but you may be wondering: What in the world is it?and How to use castile soap? This post is for you!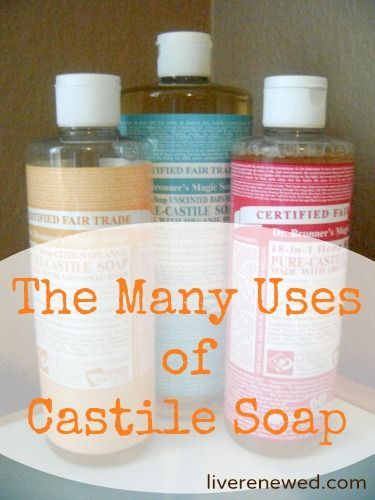 "MOM! I need you to make some more soap!" my youngest yells to me from the bathroom. We're out of hand soap and she needs to wash her hands. I grab two bottles from under the sink, turn on the water, and less than 30 seconds later I have a full container of foaming hand soap ready for her to use.
What's my secret? Castile soap.
You'll be surprised at all of the different things you can use castile soap for! But first, let's learn more about this amazing soap.
What is Castile Soap?
Castile soap is a completely safe and natural soap made from pure vegetable oils. I love the short and simple ingredient list on my Dr. Bronner's Baby Mild castile soap:
Water
Saponified Organic Coconut & Organic Olive Oils (w/Retained Glycerin)
Organic Hemp Oil
Organic Jojoba Oil
Citric Acid
Vitamin E
You can also find it in many different scents, like citrus, eucalyptus, and lavender, scented with all-natural essential oils.
This soap is super versatile and multifunctional. Castile soap is probably my favorite multipurpose green and natural product! There's not a day that goes by that I don't use castile soap multiple times, in multiple ways, around my home. It will help you to simplify both your personal care products and your green cleaning routine. 
How to Use Castile Soap
Personal Care:
Body Wash – It just takes a little squirt on one of those bath poofs and you have tons of soapy lather in the shower. The citrus scent is so energizing – it's great for helping me wake up in the morning. I use it full strength, but because it's so concentrated you could try diluting it to help it stretch even farther!
Shaving "cream" – I really like shaving with castile soap. It has a lot of lather, and because it's made with oils my razor glides better than when I was just using regular body wash. It's also pretty moisturizing and doesn't dry my skin out in the winter. Or try making this great homemade shaving cream!
Baby Wash – It also works great as a head to toe baby wash.  You do have to be a little careful with it around their eyes because it's not tear free, but especially if you dilute it, it shouldn't be too much of a problem. You can also squirt it in the bathtub to create a bubble bath for your kiddos. The bubbles won't last as long as traditional bubble bath, but it's still fun for them.
Hand Soap – Use a foaming soap dispenser and fill it up with water and then add a few squirts of castile soap and glycerin. (Another great way to avoid triclosan!) It's also great for kids because it makes a lot of fun bubbles to wash with, but without the nasty chemicals in popular foaming kids' soaps.
Baby Wipes – I use castile soap and Tea Tree Oil mixed with water as a homemade solution for my baby wipes. These wipes are great for changing diapers, but also perfect to use for wiping little hands and faces after eating, for cleaning spots of spit-up or other stains off of clothing, or just about anything you would use a disposable wipe for.
Green Cleaning:
Homemade Multipurpose Cleaner – One of my favorite and most used multipurpose cleaners is castile soap and Tea Tree Oil mixed with water in a spray bottle. It's super easy to make, and you can use it to clean all around the house.
Homemade Soft Scrub – This is a quick and easy non-toxic cleaner to mix up for the bathroom. It is awesome at getting sinks and tubs bright white and shiny again!
Find five simple homemade cleaners you can make with castile soap!