Remember when John mused about who would win the bathroom race (he wanted to frame out the mirror and I was on the DIY window shade train) here? Well, chugga chugga, baby. Momma won.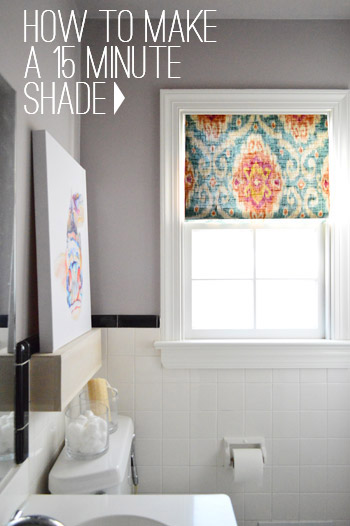 We got the fabric at an outlet called Mary Jo's a while back (here's an affiliate link to it on amazon for folks in other areas). We threw Clara a wormy birthday party with her two favorite colors – pink & orange – so when it came to picking out the fabric for the hall bathroom, where we log some serious potty and bath time with her, I couldn't resist adding some fun with the bold patterned fabric that featured a few of Clara's favorite colors. Especially since so much of the room is such a safe/neutral tone (lots of white tile and trim + gray walls with a soft plum undertone), so it's fun to bring some pops of color with the turquoise knobs that we added to the vanity, some colorful art, and our new window shade.
As for the process, it was a semi-similar system to the shade I recently made for the kitchen – except even simpler. Yup, this baby was an $8, fifteen minute curtain (the kitchen one took about an hour). There was still no sewing machine involved, but this time there was also no pinning and less fabric (I only needed half a yard) – so it took a lot less time. You ready for the breakdown? I thought it would be fun to do a minute by minute rundown, so here we go.
Please Head On Over To Next Page Or Open button and don't forget to SHARE with your Facebook friends