Home
>
Just for you
>
How to Get A New "Ice Maker" for Under $4!
>
Page 2
How to Get A New "Ice Maker" for Under $4!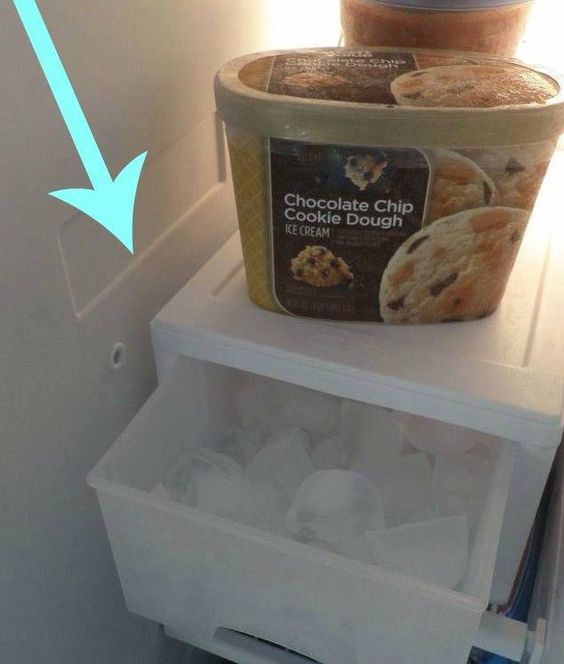 This is our side by side frig/freezer. Loved having the ice maker and water dispenser but when it quit working, and at the cost of getting a new dispensing unit, we thought there must be another way. 🙂 And we can get cold water from bottles stored in the frig so…….
This is the cover that hid the automatic ice maker inside the freezer. That unit has already been removed and you can see the ice trays sitting inside on a shelf.
After the ice maker unit was removed, we simply took a piece of 1/4″ plywood and made a shelf that fit on the already existing brackets. We used white high gloss spray paint on the shelf making it easy to clean if necessary. As you can see, there is still room for a couple more trays. Though this works well, we wanted to have room for more ice cube storage.. So………
To hold the ice cubes, I bought a plastic shoe box which fit on a lower shelf perfectly. I also now have 'created' another shelf where I can put things on top of the shoe box. Before we were just storing the cubes in a plastic dish but it wasn't feasible to store more things on top of it.
The shoe box works like a drawer making it easy to put the cubes into it and also easy to have cubes at the ready 🙂 Now we have almost as many ice cubes available as we had with the auto ice maker…..and no worries about leaking. 🙂
And when you open up the freezer, it looks as good as it did with the ice maker in it….not that a 'decorative looking' freezer is all that important. LOL! If your ice maker has quit working and you're looking for a simple yet very workable way to have lots of ice, this idea may be for you too!