HOW TO CLEAN A FRONT LOAD WASHING MACHINE
STEP 1: REMOVE MOLD FROM WASHING MACHINE
The first thing I did was grab the bleach-with mold build up this bad there was no other option. Soak some white towels in a 50:50 mixture of chlorine bleach and warm water. Tuck the towels into the rubber seal and let it sit on the mold and mildew for an hour or so. Then wipe out the gaskets-they should wipe clean at this point. Throw the dirty bleach soaked towels in the drum and run a wash cycle on the hottest wash cycle you have-usually the whites cycle.
STEP 2: SANITIZE WASHING MACHINE TUB & CLEAN EXTERIOR
Pour two cups of vinegar into the drum and run another hot cycle. Next wipe the machine's exterior with a 50:50 mix of white vinegar and water. Remove that detergent tray if possible and clean with hot water and vinegar as well.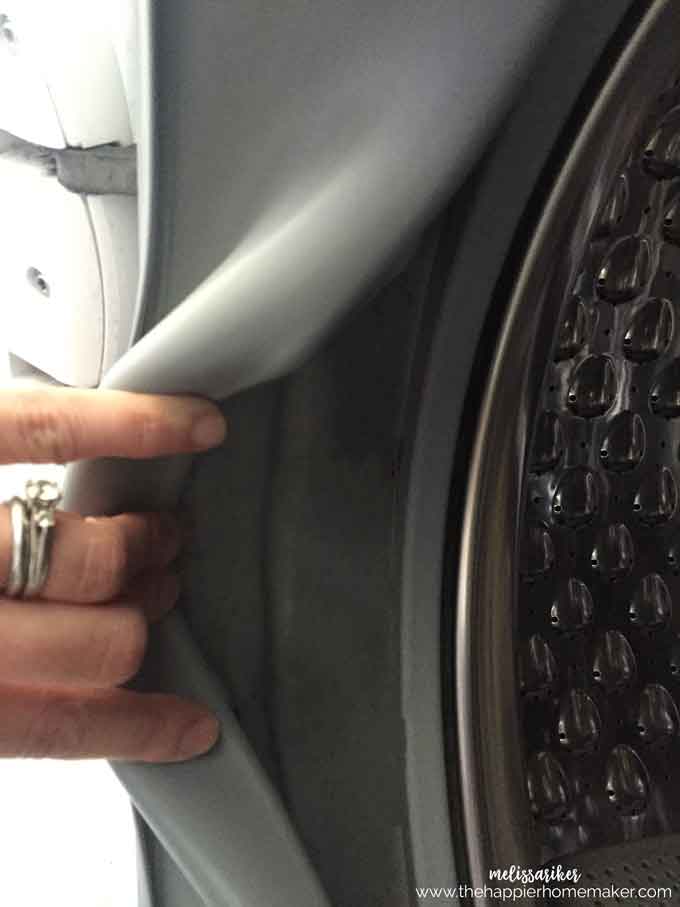 (Sorry for the grainy picture-it was a dark rainy day…we get those from time to time here in England!)
HOW TO PREVENT MOLD IN FRONT LOAD WASHING MACHINE
Your machine should be sparkling! To prevent future mold buildup leave the machine door and detergent tray open after washing and get in the habit of checking the gasket after you run a cycle and wiping it out with a spare towel. (I often find treasures like legos and coins in mine!)