Have you ever removed a builder grade mirror? It's not fun. Plus, the glue behind can ruin the drywall and removing that can be quite a hassle. When we decided to update our master bathroom on a tight budget I knew that I wanted to frame the mirror instead of removing it. The only issue in our bathroom is that the mirror has a beveled mirror frame and I was concerned about how the wood would stick.
We had scrap wood 1x4s on hand so that's the wood I used. I started by measuring the mirror and then cutting each board to length with alternating 45 degree angles. Do not forget that you want your measurements to run correctly from tip to tip on the 45 degree angles.
Once we made the cuts, we laid out the frame in the garage to ensure it fit together- it did… yay!
Next we used the kreg jig (excellent tool for the price if you don't have one) to create hidden pocket holes to secure each corner of the frame with a hidden screws.
Once the whole frame was together, I used wood filler to smooth any gaps and then painted the frame.
Finally we carried the frame upstairs and put a bead of special mirror glue on the whole frame. Once we set it place, I secured with painters tape for 24 hours before removing them!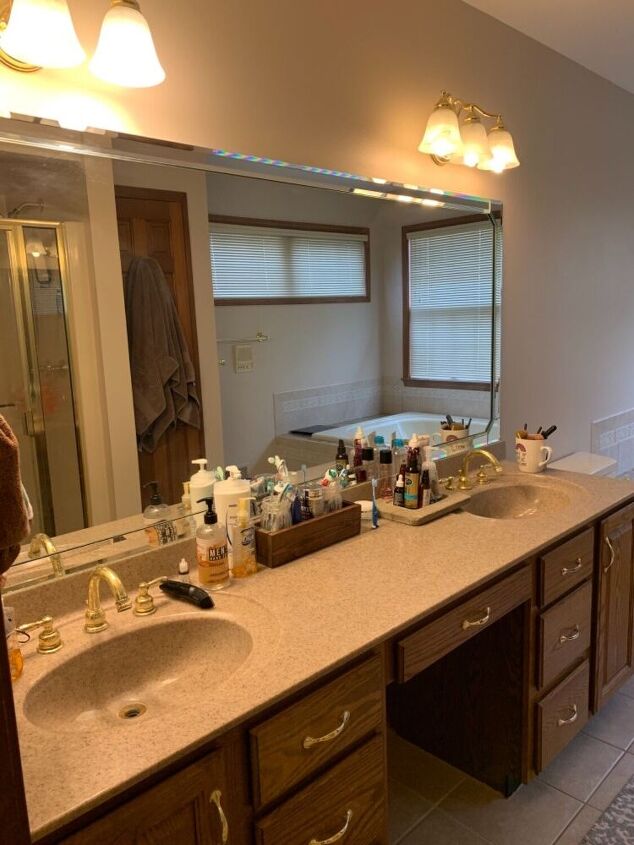 Before: Here you can see the beveled frame
Please Head On Over To Next Page Or Open button and don't forget to SHARE with your Facebook friends