Before I sold everything I owned and painted my whole house white I couldn't buy a decorating magazine.   Why you ask?  I couldn't put any of those nice things in my house.  It'd look stupid.  I'd look stupid.  My house would look stupid.  No matter how you looked at it, everything led to stupid.
I found most of the stuff in my house at garage sales or at the side of the road so the latest doo-dad from Fancy Store just wasn't going to fit in.   A lace doily and a bowl of Scotch Mints?  They would fit in.  See here for proof.
So anything featured in a decorating magazine dated anything later than September of 1840 wasn't exactly going to blend.
When I finally painted and redecorated my house, I bought some magazines.  And I started filling my house up again on a minimal (non-existent) budget.  When I saw a tree stump table teetering on stainless steel legs in Canada's House and Home magazine, I thought "I'm gonna make me one of those".  For free.  Yay for free furniture!
Crap.  That's what got me into trouble with my house in the first place.  Decorating it with things I had found at the side of the road.   However, this free thing didn't require that I scrape dried up earthworms off it, so it was bound to work out better.
I got me a stump and I made me a table.  And you can too.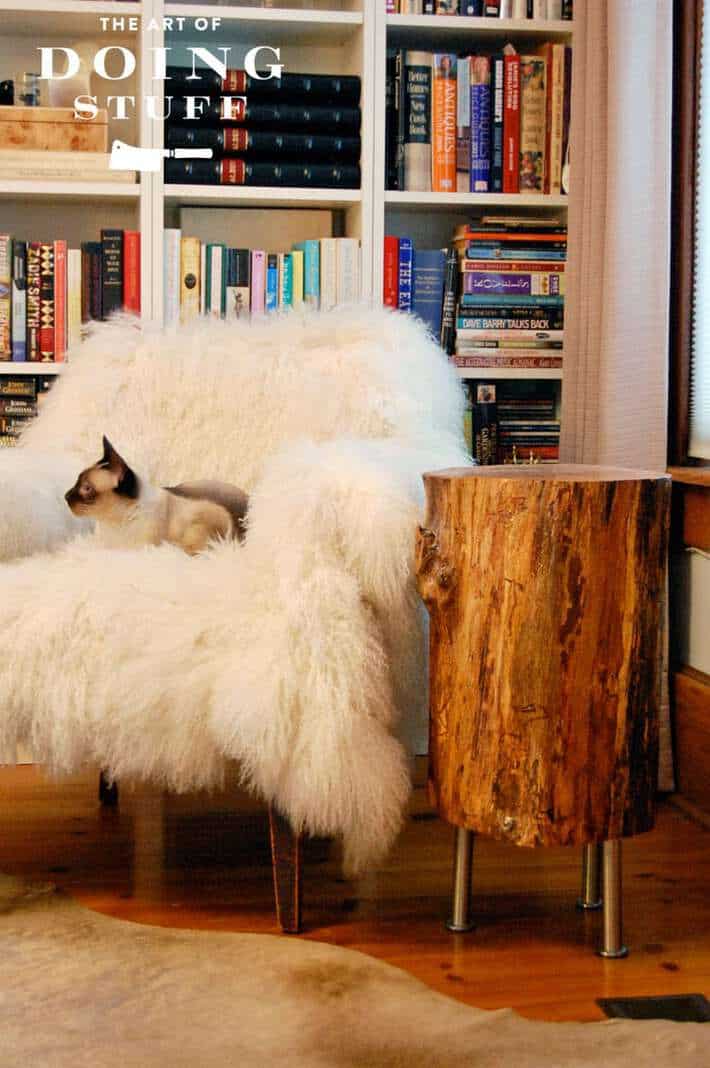 Materials:
*  Tree stump
*  Sandpaper (medium and fine grit)
*  Polyurethane (high gloss, semi-gloss, satin … whichever you want)  I used satin which has just a nice sheen
*  Paint brush
*  1 package of 4 Capita legs from Ikea (I used 6")  $19.99
Click 'Next Page (>)' to keep reading and don't forget to SHARE with your Facebook friends