There are few things more beautiful than a dandelion paperweight! When Spring arrives, you will start to see dandelions popping up all over the place. Soon they will flower and you will see a bunch of white fluffy heads instead of the pretty yellow flowers. That is the telltale sign that spring has finally sprung!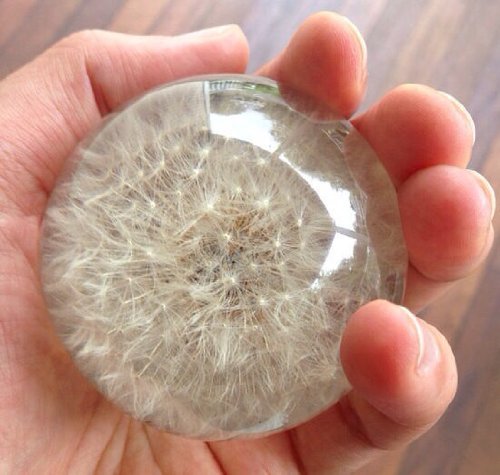 As a child, you probably blew these puffy heads and made a wish. It's pretty common to wish upon a dandelion, as a youngster. Can you remember things you wished for?
Of all the flowers, few bring back as many childhood nostalgic feelings as the dandelion. No matter where you grew up or what kind of life you had, most of us remember them.
You can capture one and preserve it for all eternity by following the tutorial I am sharing with you today. It's like storing all those memories and childhood fun in a dandelion globe the size of your palm. The globe is something that speaks to your youth but it's also an incredible little craft.
Dandelions for Survival Food
Before we show you how to do this cool craft, let's learn a little more about why preppers should care about the dandelion. First, did you know that dandelions are a great plant to have around in a survival situation?
The dandelion is a powerhouse in the survival world. It's a wild edible and the leaves are even sold at the supermarket in spring! Another great little secret about the dandelion is that the tuber roots can be eaten.
You can make a salad from them by stripping the stems and using them as the base. But you don't have to waste the other parts because they have uses as well.
Clean them and strip them, too. Then you can chop them into smaller pieces as use them as roughage. You can leave the flowers whole or cut them into smaller pieces. Add oil and vinegar, some pepper and salt, and your salad is complete!
You can even use them to make a stir fry. All you need is a frying pan and a campfire. Clean them, shop them, add some green onion if you have it, and cook it all over your fire (with some oil).
You can also make dandelion soup! Pretty much any leftovers you have can go in the pot, along with your freshly picked dandelions. Strip the greens and chop the roots into sections before adding to the pot.
Click 'Next Page (>)' to keep reading and don't forget to SHARE with your Facebook friends