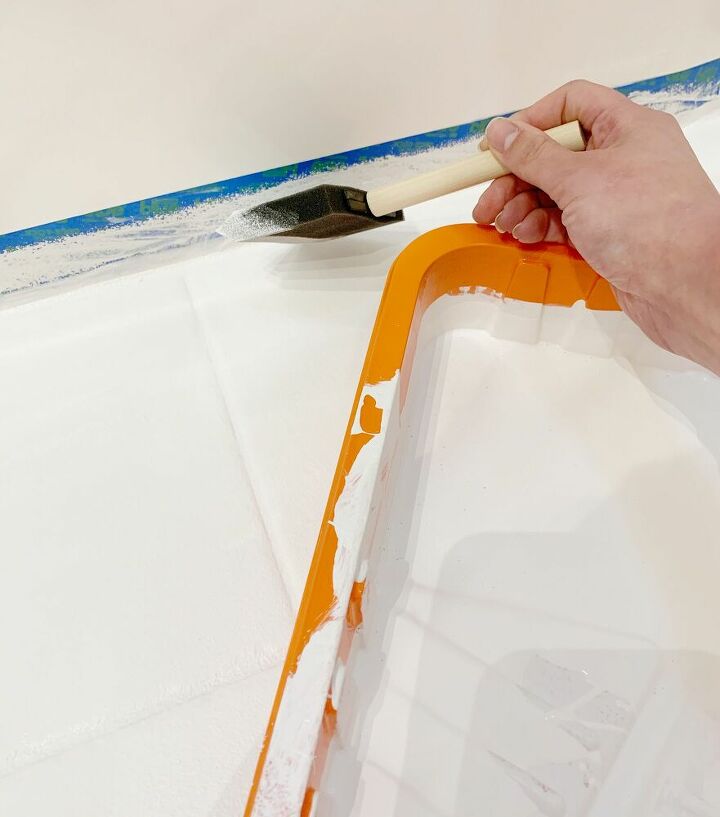 Paint Base Color
After your primer has dried, it's time to apply your base color! You can use any wall paint. I decided to go with a semi-gloss in Behr Ultra White. A cheap sponge brush works great for getting in the grout lines and along hard to reach edges.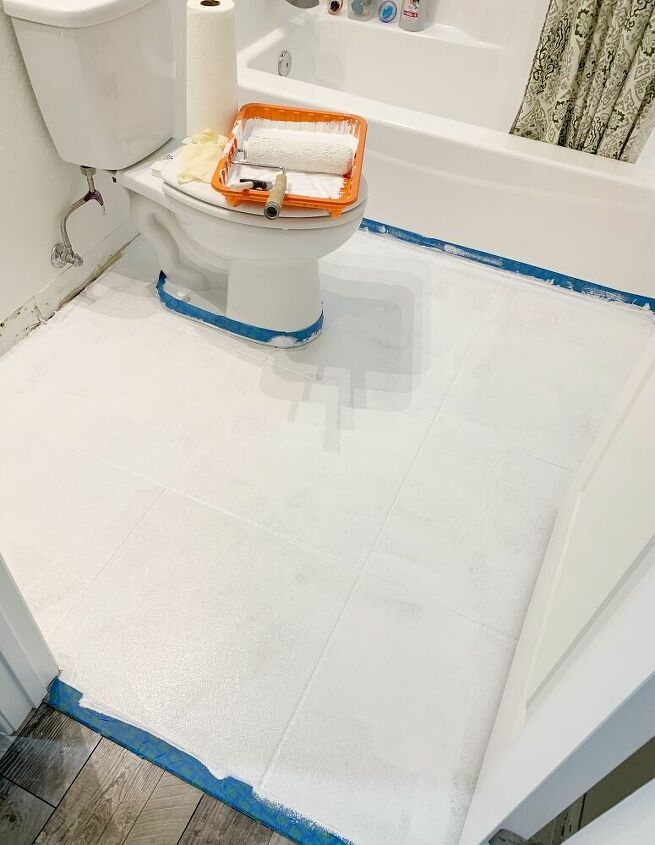 Dry Time!
After 2 coats of paint, I gave the floor a good 24 hours to completely dry. So much brighter already!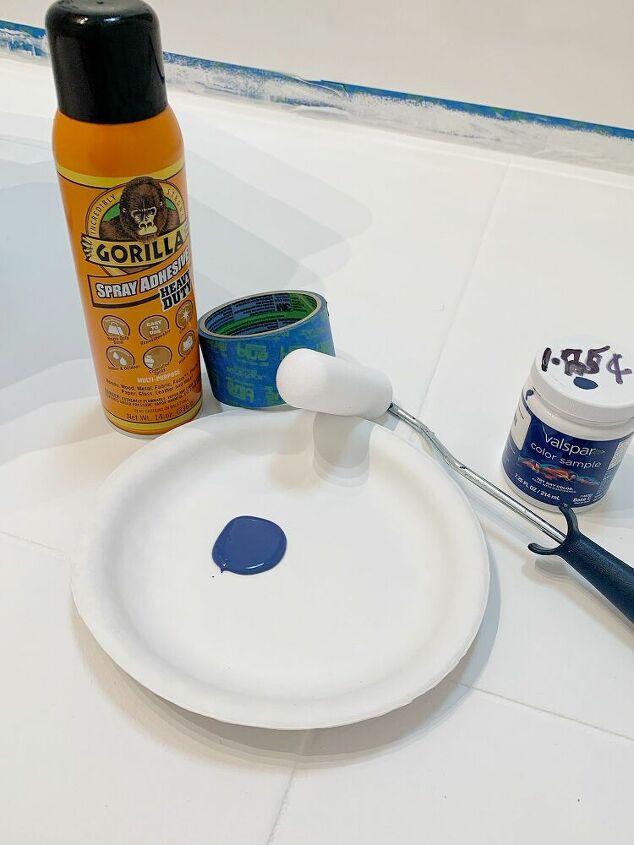 Gather Stencil Supplies
Now time for the real magic! To apply your stencil you will want a small foam roller, Painter's tape, accent color and optional spray adhesive. I was able to find a color I liked in the discount paint aisle! You don't need much so a tiny sample size will work.
You also will need a stencil of course! I ordered mine online through Cutting Edge Stencils. You can find them here: https://www.idevaffiliate.com/33076/231-4.html They are very inexpensive and have so many designs to choose from!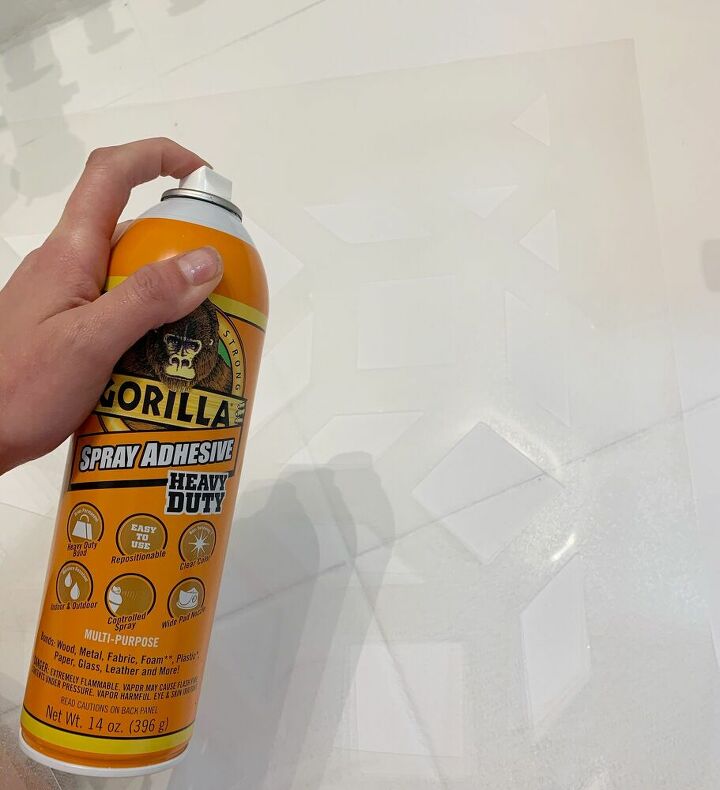 Adhere Your Stencil
Spray adhesive is optional, but I recommend as it will keep the stencil from moving around and help prevent any bleeding. Just lightly spray on the back and then position on the tile. The stencils also have marked grout lines which make it simple to line everything up! I then used painters tape on the edges for additional support.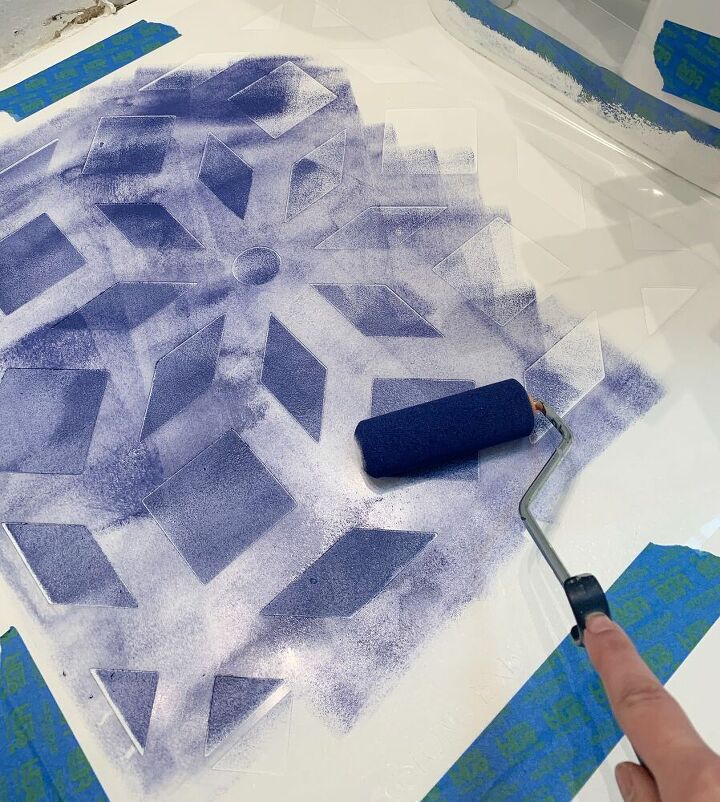 Apply Stencil Color
The key to applying paint on the stencil is to use a very light coat! This will prevent any bleeding. I rolled excess paint onto a paper towel first to make sure there was minimal paint on my roller. Slowly roll over the stencil in light coats. You can always add coats to darken your color!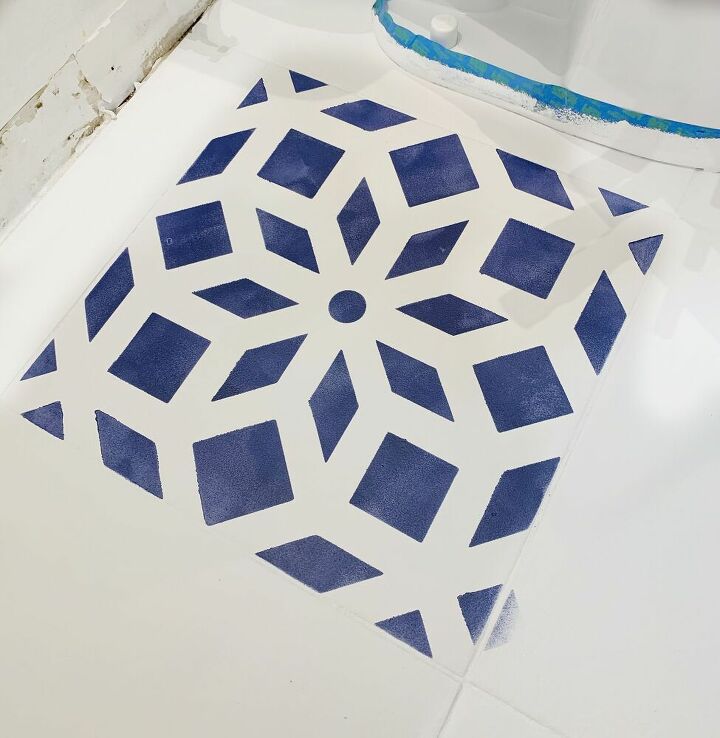 Remove Stencil
After painting, just slowly lift up the stencil and move on to the next. Since your coats are so light there is essentially no drying time and you don't have to worry about smudging your design. How beautiful is that?!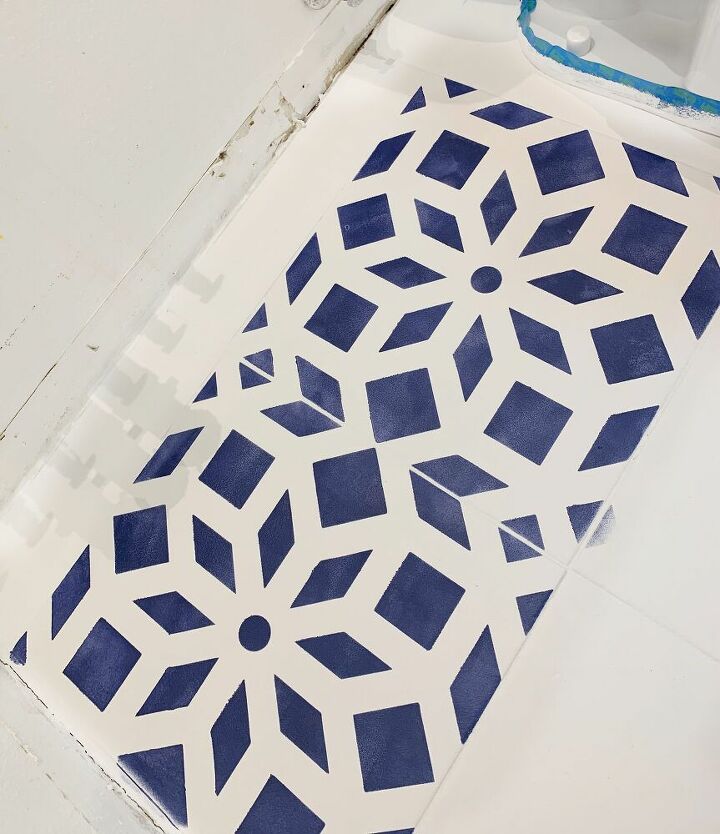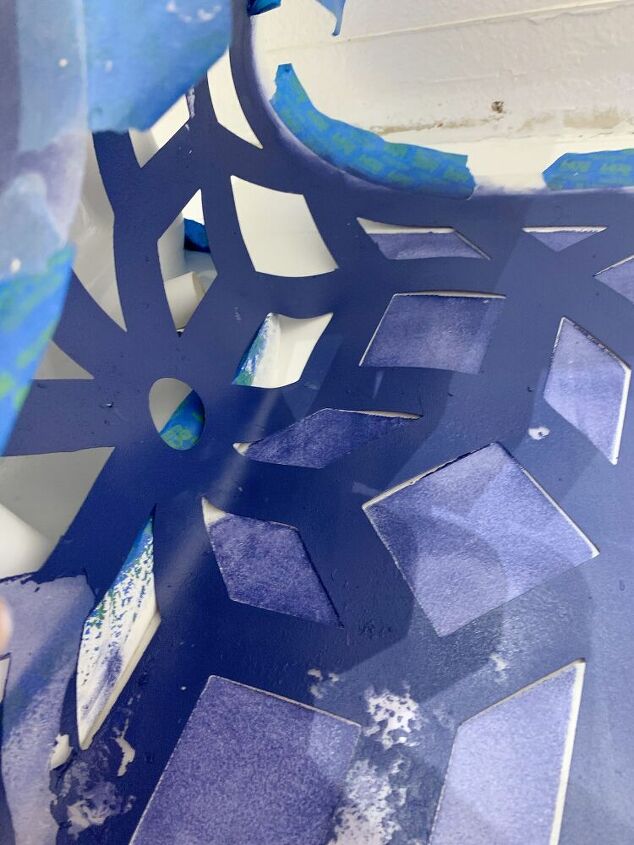 Edges
Obviously not all tiles will be perfect sizes. When it's time to go around edges or paint partial tiles, fold up the edges of your stencil and secure with painter's tape. It's also easiest to dab on the paint with a small brush in these areas.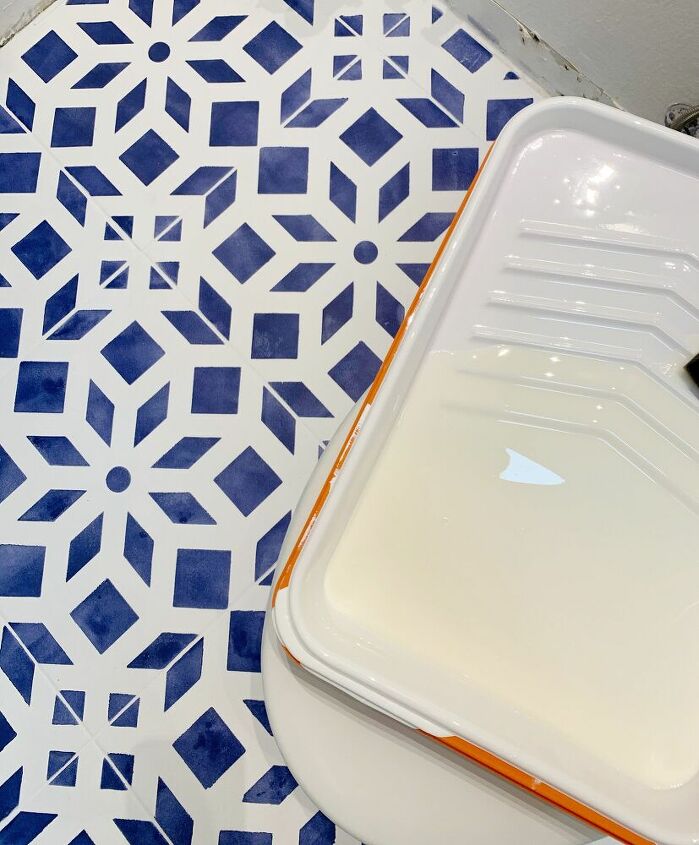 Apply Sealant
Once your beautiful stencil has been applied, you are going to want to seal it all in! I used Varathane Triple Thick Polyurthane in a matte finish, but there are lots of options available! When choosing a polyurethane, just make sure it's clear to avoid any yellowing on your floor. Like the other steps, I applied 2 coats using a foam roller and foam brush for the edges and grout lines. It might have been overkill since it was triple thick, but I wanted to make sure the floor would hold up to water and traffic!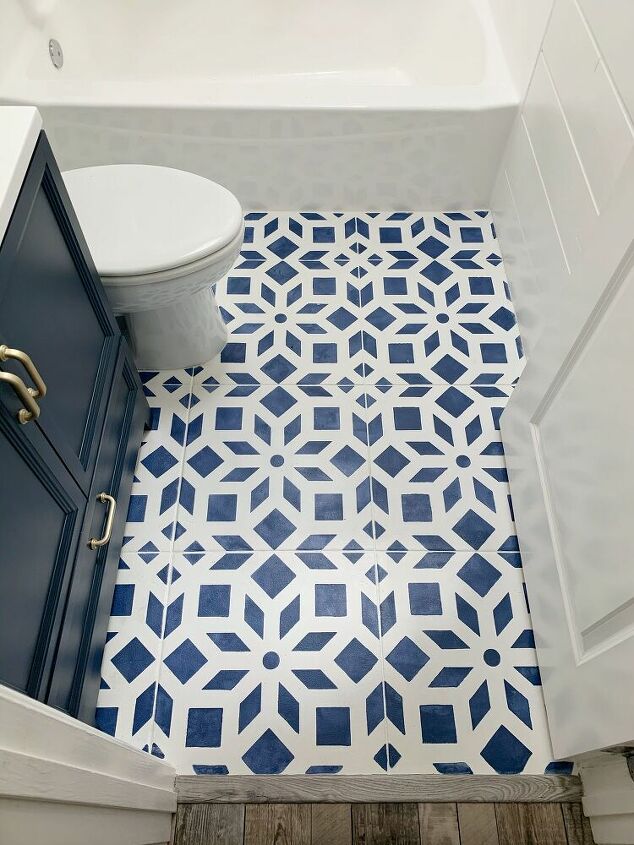 Enjoy!!
After the polyurethane is dry, remove all the painters tape and enjoy your beautiful new floor!!