DIY Mudroom Built In/Hall Tree with a Bench & Drawers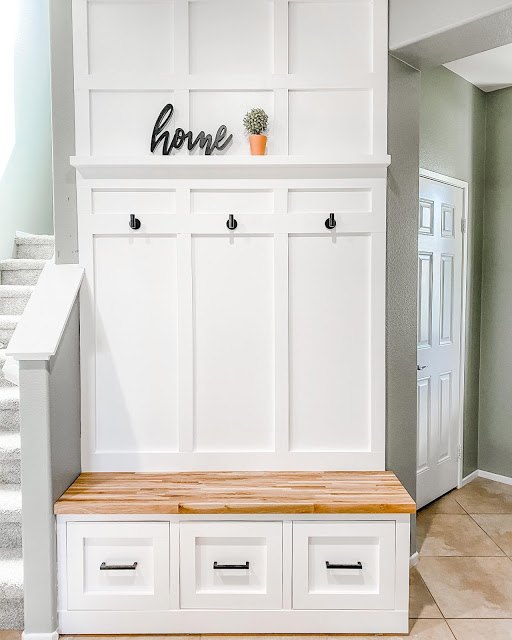 When we moved into our home (going on 4 years ago now) I had a vision for this little wall from the start. I knew I wanted a "mudroom" but being in California those don't exist, new builds are starting to incorporate them but not to the grandness of those beautiful country homes gracing our feeds lately. If you are looking for that craftsman/farmhouse charm of a place to hang your coat or sit down to put your shoes on and lack a dedicated room but have a wall…this is the tutorial for you! You can absolutely change this to fit your needs or space, don't have room for a bench just extend the board and batten to the floor and you can still have a coat hook wall.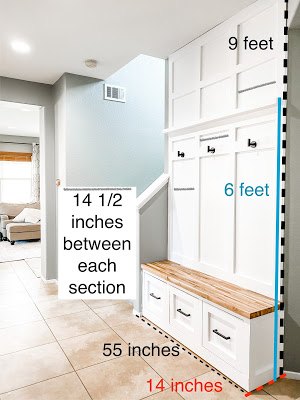 Materials:2×4's : frame for bench cabinet1/4 inch plywood : board backing 3/4 inch plywood : bench cabinet and drawers3 1/2 inch common board strips : horizontal "batten" and trim piece for the bottom of bench cabinet2 1/2 inch common board strips : vertical "batten" and horizontal "batten" on upper squares2 1/2 inch common board strips : trim pieces on bench cabinet and drawer faces1 1/2 inch poplar trim : trim on ledge and bench cabinetKREG Pocket Hole JigKREG Drawer Slide Jigorbital sandersanding blocksWood FillerButcher Block Bench TopMilwaukee Brad Nailerscrewspocket hole screwsnailsPaint:Kilz 2 PrimerBEHR White Satin Enamel Urethane Alkyd Interior/Exterior PaintHardware:Drawer PullsCoat Hooks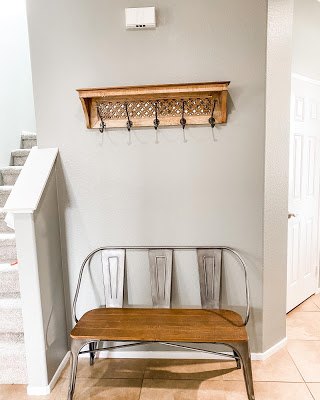 This wall is in our entry hallway which is an odd area to say the least but it is the way to the front door and garage door so its the perfect landing space, we have had this bench and shelf since we moved in and it was a great little area for awhile but was always cluttered and I was ready to brighten this hall up with a big show stopping white built in.
Please Head On Over To Next Page Or Open button

and don't forget to SHARE with your Facebook friends