Hello friends! Today I'll be giving you a tutorial on how to make a HUGE statement piece for your home out of old books and paint! I actually pre-aged my books (using thrift store book finds that I soaked in coffee and let dry), but you can use any books you want! Paperbacks tend to be easier though, and I recommend ripping off the covers. Then, you just need some nails, glue dots and projector!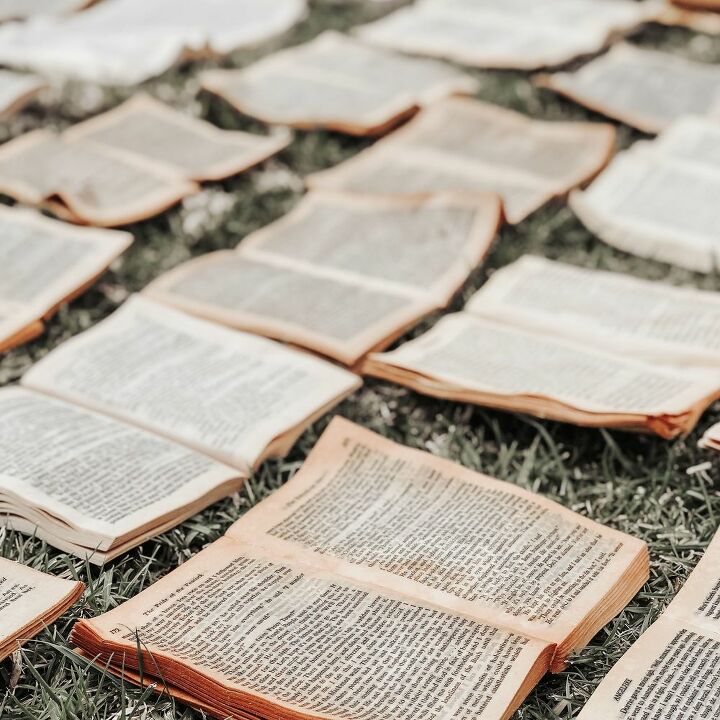 Here are my pre-aged books – I used 67 total on the wall!
Step 1: Remove everything from the area where you will be working (or cover large pieces of furniture with towels or drop cloths), and visually take stock of your space to decide how large you would like your art installation to be. Ours is approximately 5 feet tall and 97″ wide, and I wanted it to span most of the wall. I used blue tape to mark off exactly where I wanted the books to go, so that when hanging them, I would be able to use that as a guide.
I used a level and pencil to make small marks on the wall, and then put up blue painters tape along those marks. I didn't see the need to do a strip at the top, so I just added little horizontal strips of tape to mark off the top corners.
PRO TIP: MARK YOUR STUDS! We did not do this, and while it's not a HUGE deal, it will save you a headache later if you ever want to take this art installation down – because yes, there will be a LOT of nails in your wall! (Also don't do this project if you don't want nail holes in your wall, because there will be a LOT). And because I used finishing nails, which have little to no head, it's nearly impossible to remove them from a stud! If you mark your stud, you can use regular headed nails in these spots, which will help you remove them at a later date if needed!
Please Head On Over To Next Page Or Open button and don't forget to SHARE with your Facebook friends