Want to create a designer look for your windows? It will cost you an arm and a leg… or under $45! When I went to a designer window treatment shop to see about custom cornice boxes for my kitchen window and sliding door, they quoted me over $600 for just one! I was not ready to pay that much, so I found a way to DIY my own fabric cornice boxes with that designer touch for so much less… And you can too!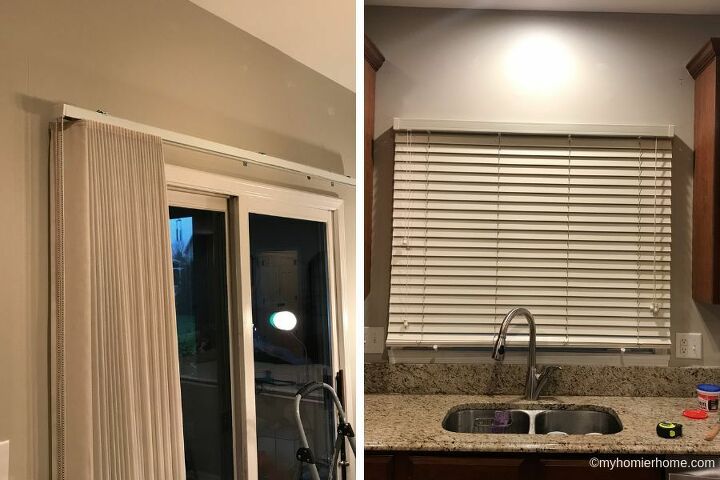 This is what we were working with to start. The bland, plain old blinds. I really wanted to jazz them up and give them so character with a custom, designer-made feel.
Step 1: Measure for your Cornice Box
Before purchasing your materials, you must measure for your cornice box. Always measure at least two to three times before finalizing your numbers. You want to measure the:
Length (up and down)
Width (left to right) ​
Depth (how far out from the wall)
Step 2: Choose fabric & Purchase it
I ordered my fabric from fabric.com because of there wide selection and ease of ordering, but Joann Fabrics is also a good option if you want to see and feel the fabric in person.
Step 3: Gather and Purchase All Materials
You can get the full list of everything I used at the end of this post along with the full tutorial here, but to start you will need:
Plywood for:
1 Front Piece (fit to your specifications)2 Side Pieces (fit to your specifications)1 Stability Piece (measurement of your front piece minus the width of the side pieces)
4 – 2″ brackets
2 – 2.5″ brackets
Fabric of Choice
Roll of Batting
20 – 1″ Screws
4 Drywall Screws & Anchors
Step 4: Clear the Area & Spackle/Paint the Holes, if any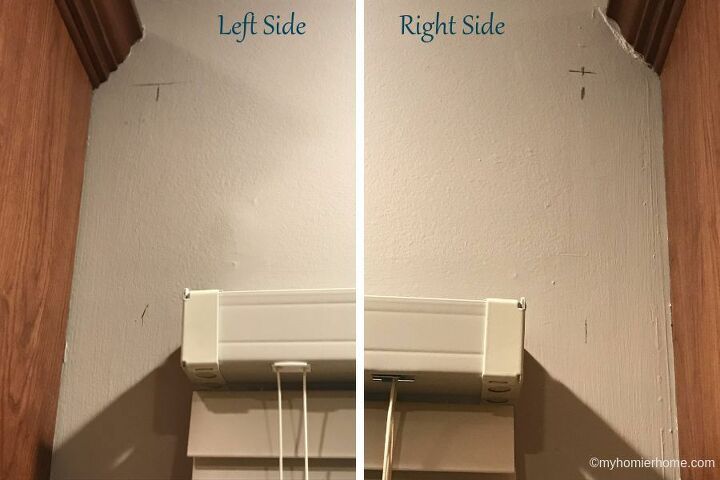 Step 5: Mark your Measurement on the Wall
The goal here is to mark where the side pieces are going to line up both from the ceiling-down and from the center-out to the ends of the box. We measured 13" down from the ceiling and 2" out from the blinds on either side for our boxes.