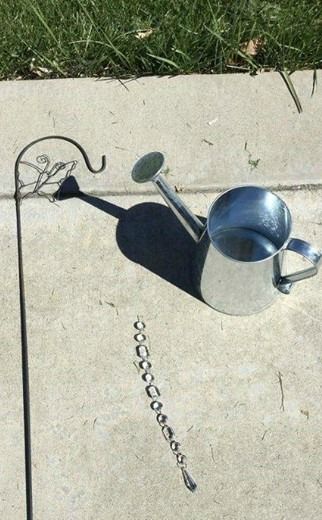 I put my yard stake out in my yard, and simply hung the watering can on it.
I'm planning on putting this in my flower bed. My flowers are just starting to grow back this year.
Here are a couple photos from a distance. The stake disappears and it looks like the can is floating. I added a windmill flower and solar flower below the can – thanks to a fellow Hometalker's tip.
Stake is 3 feet & the watering can is 8 inches.
I'll be making this and more on my next Hometalk Facebook Live, Tuesday, March 14th at 7pm EST. Hope to see you there!
I would love to have you stop by my blog 
 Chas' Crazy Creations  for the full tutorial as well as sign up for my latest creations, posts, recipes, exclusives, and more…
I would love for you to subscribe to my YouTube channel to see more of my crazy creations – https://www.youtube.com/channel/UCIOsMN7hycVRco-MROXwmXg