The biggest home decorating secret is out! This is what EVERYONE has been asking about (and raving about!)… In order to avoid the hassle of ripping out existing floor and the high cost of real tiles, you CAN achieve a similar look by painting your tile floors that only LOOK expensive. Get in with the inside scoop and check out how YOU can create paint directly over your tile floor to make it look pretty and patterned. Watch the video and follow the instructions below to learn how you can create your own faux aged blue glazed tiled floor in 10 easy steps using Tile Stencils from Royal Design Studio: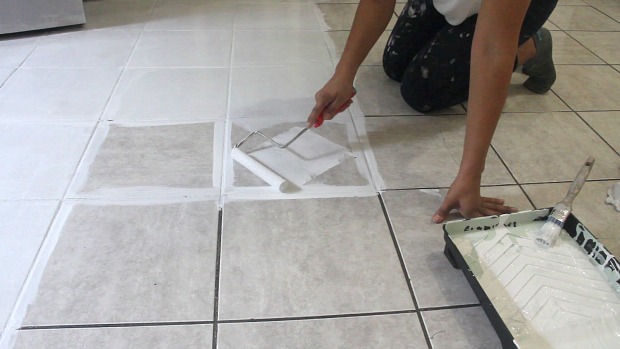 Supplies:
Renaissance Tile Stencil Set A and Renaissance Tile Stencil Set B (size Large 12" x 12")
2" Royal Stencil Brush, 1/2" Royal Stencil Brush, and 3/8" Royal Stencil Brush
Annie Sloan Chalk Paint® in Old White
Zinsser's Bulls Eye 1-2-3
Water-based polyurethane top coat such as Minwax® Satin Polycyclic Protective Finish
Folk Art Midnight Blue and French Blue Acrylic Paints
Folk Art Paint Extender
TSP Substitute and scrubbing pad
Small painting brush, ¼" nap roller, foam roller, and trays
Paper towels, contractors paper, and painter's tape
Step 1: Time to prep your surface! Dilute 1 part TSP substitute with 1 part water. Use a scrubbing pad to clean the tile floor with this mixture. Then remove any residue of the cleaning mixture by rinsing the floor with warm water.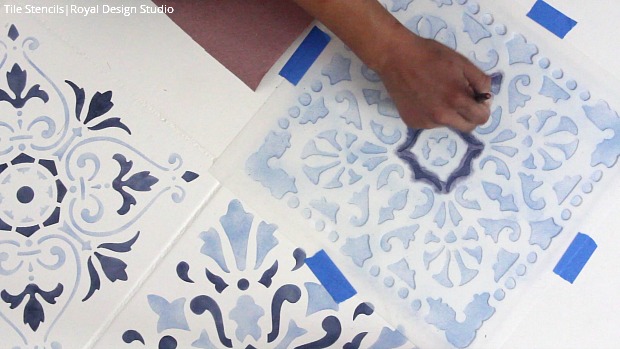 Click 'Next Page (>)' to keep reading and don't forget to SHARE with your Facebook friends