There's a lot of negative energy in the world.
For example, some people say, "It's too early to decorate for fall."
Or, "We live in Florida, it's still 90 degrees out."
Or, "Halloween already? Amanda, it's only September."
And to those people (who I also refer to as my fiancé Tom), I say… nothing. And then start decorating anyway.
I live for a good theme or costume. So, it's only natural that I have a deep love of Halloween.
Last year, when we were still eagerly anticipating that a certain pandemic may be over and that more than 10 people could be together at one time, a Halloween party was on the agenda.
I was eager to decorate away the stir craziness I was starting to feel at home. I tried to remain levelheaded and told myself there wasn't a need to break out the pumpkins and bats before October.
I mean, the decorations would still be ready to buy and DIY by the time I was ready to shop. Right?
Wrong.
Every Dollar Tree, Walmart, and Party City had to have been raided before I got there. Between the spooky leftovers and ironically broken bones of plastic skeletons, I was able to scrape together a few fun things. But, I promised myself that next year would be different, and I would be ready.
That's why I currently have 6 bags of various Halloween craft supplies and décor shoved in the closet. As far as Tom knows, everything is coming out of storage from last year… maybe I'll scare him with the truth later.
So, here is my first little practice project of the season.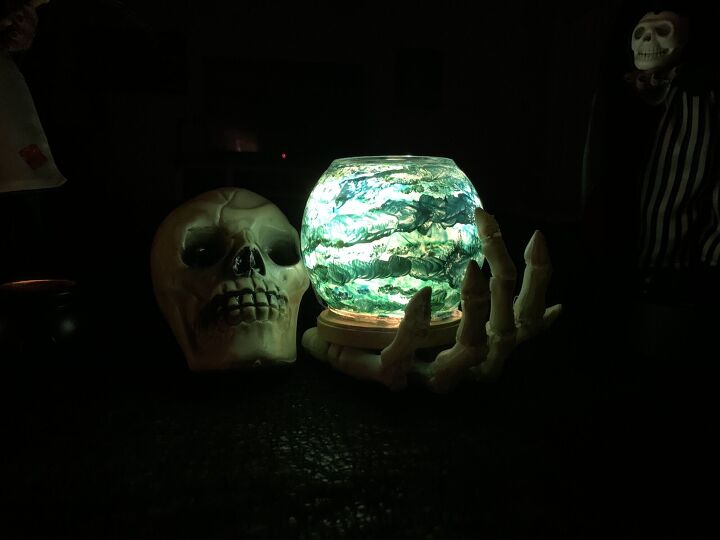 The supplies I used are:
–      Dollar Tree Skeleton Hand
–      Hot Glue Gun
–      Scissors
–      Poly-fil (I used maybe 1/3 of a 2 oz bag)
–      4×4 Round Circle Plaque
–      Dollar Tree round glass floral bowl
–      Glossy Mod Podge
–      Blue & Green Food Coloring
–      White Acrylic Paint
–      Gold Paint
–      LED Battery Operated Micro Dots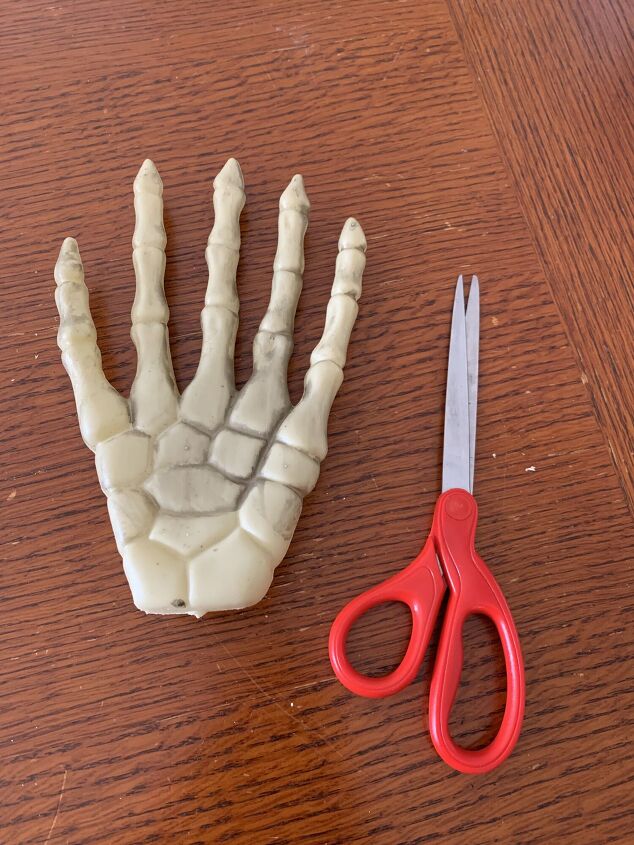 Step 1
Cut and Form the Skeleton Fingers to the Bowl Shape
The hand I bought didn't bend, so I cut the fingers at each joint.
Then, I made sure to place each section in order of where it goes.
(You would think it would be easy to tell if one was mixed up, but let me just say, I sent all those little bones flying after cutting the final one and it was not an easy task putting it all back together.)
Back to Top