How to repurpose a tree stump to create a mini succulent garden. This tree stump succulent garden was a sort of an out of the blue project. We are trying to find ways to spruce up the patio and adjacent area for the home we rent.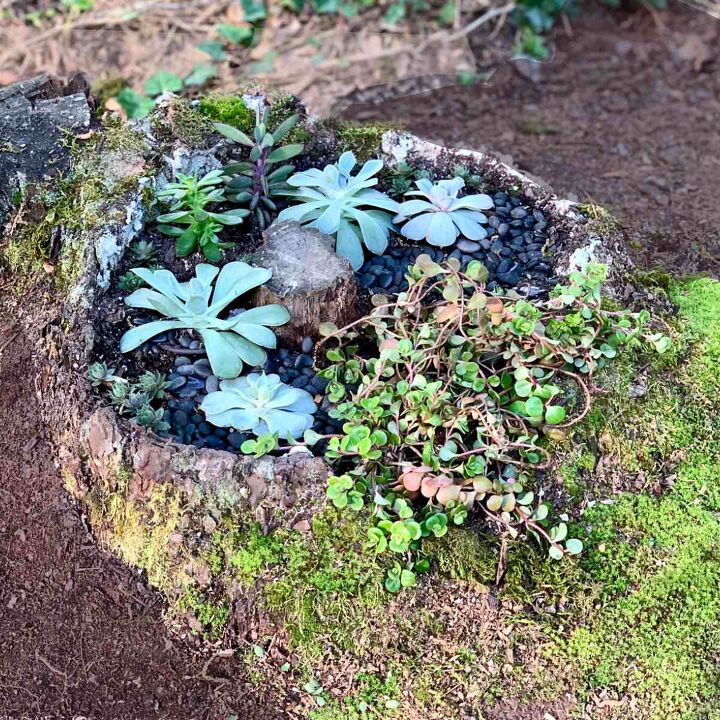 We are always in a quandary because we love being outdoors and having nice gardens and landscapes around us, but we don't have much of a budget to be buying things for someone else's home.
I started having grand ideas about extending the patio and creating some sort of semi-temporary screened-in area.
As my realistic self got in touch with me, I pulled back some. What could I do with a very minimal budget and a limited supply of materials?
My eyes settled upon a tree stump right next to where I would have liked to extend the patio (and probably still will).
It actually has a unique look to it, but the thing is almost completely rotted, surrounded by ivy and ant infested.
I knew my available supply of materials included soil, cement, a few plants, and some gardening tools.
So why not turn this tree stump into a mini succulent garden?
Please Head On Over To Next Page Or Open button and don't forget to SHARE with your Facebook friends