Yesterday was a pretty low key day with regards to blogging and anything blogging related. Sometimes you just need a "mental health day"….ya know? But even though "blogging" was the furthest thing from my mind…while I was washing up some dishes in the morning, I came across one of my "much loved" cookie sheets that was looking pretty sad.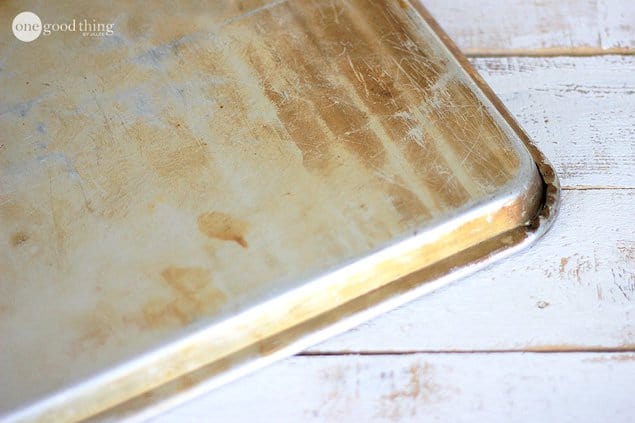 For some reason I was in the mood to experiment….so I did. I decided to pull out my favorite cleaning combination…Baking Soda and Hydrogen Peroxide…and let it works its magic. But…this time I took a slightly different approach.
Normally when cleaning with this dynamic duo, I make a paste of the two and just start scrubbing. Today I decided to add an extra ingredient. Time. I didn't feel like actually doing much scrubbing….but I had TIME to see what my "Miracle Cleaner" could accomplish if left to its own devices for awhile.
I am happy to report: "miracle cleaner" + TIME = RESULTS!
Cleaning Your Baking Pans the Easy Way
I started out with a medium-sized circle on the badly stained backside of this jelly roll pan that I have had for a million years.  I wanted to try a "test patch," if you will, just to see if it was worth trying out on the whole pan. You better believe it was!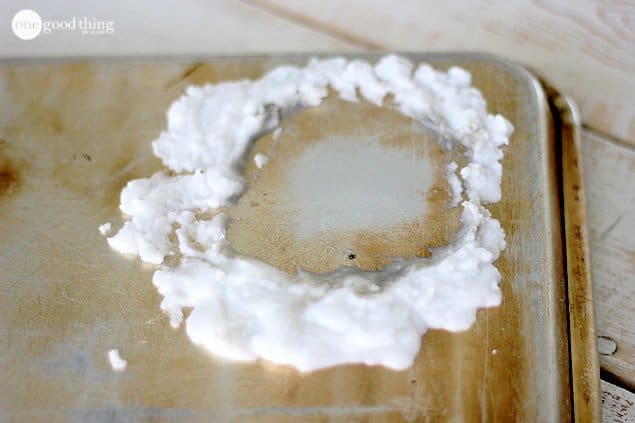 After sprinkling the spot with baking soda; spraying with hydrogen peroxide; then another layer of baking soda… I left it sitting there like that while we went to breakfast. When we got home I rubbed a little of the cleaner off and was actually quite astonished to see MOST of the gunk came right off! Minimal rubbing with my fingers (you could use a scrubbie too) was required.
Please Head On Over To Next Page Or Open button and don't forget to SHARE with your Facebook friends