When Melissa Dohme went to see her ex-boyfriend, she was not expecting him to stab her 32 times. But she wasn't expecting to meet her future fiancé either.
January 24th, 2012, was a day that Dohme will never forget. She was fighting for her life, losing a lot of blood from 32 stab wounds. But lets start from the semi-beginning to fully understand why this happened.
In October of 2011, her and her then-boyfriend, Robert Burton, had gotten into a heated fight, resulting in him punching her. She immediately broke up with him, and the two hadn't talked in months. Until that fateful night in January, 2012.
Burton had repeatedly called Dohme, asking her for a simple hug. But she refused, and that caused him to cry. So she gave in, and drove to his house, and gave him a hug. But he did more than hug her back. He began to stab her, over and over.
Two witnesses intervened to stop the attack, but didn't do much help, as the damage had already been done.
"He was just stabbing over and over with the switch blade knife and that's when I was leaving my hands up because I knew he was trying to stab me in the eyes and heart," said Dohme.
As she was rushed to the hospital in critical condition, she was getting worse. She was losing too much blood, and according to the surgeon who had operated on her, she had even died twice while they tried to stop the bleeding.
It took three hours, but she was eventually stabilized. And from then on, she recovered from her injuries, and it was a miracle she had even lived. She even began to speak out in public schools about domestic violence.
Then in October of 2012, she was able to meet the group of first responders who had taken her to the hospital and saved her life. And it was there, that she met the love of her life. Cameron Hill, a 17-year veteran of the fire department, was stunned by how far she had made it, and the miraculous recovery she had made.
The two instantly connected, resulting in them dating only a few months later. Hill was even there with Dome as she forgave Burton in court, right before he was sentenced to life in prison.
Then, in May of 2015, Dohme received the honor of throwing the first pitch at a game. But a lot more happened. Before she was able to throw the first pitch, Hill proposed.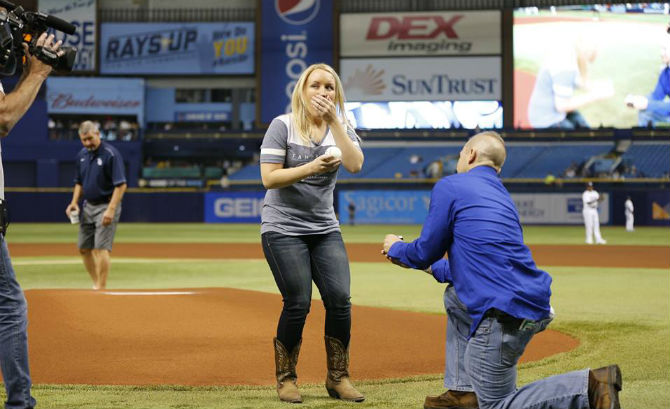 Dohme said it was the "most surprising moment of my whole life." And I think it stunned a lot of others as well! Now, the couple is planning on exchanging their vows in March this year, 2017, and they couldn't be more excited! And we are too! We wish them the best of luck with their marriage, and can't wait to see wedding pictures!
SHARE this post to share with your friends this tragedy story that remarkably turned into a love story!