Today I'll be answering a reader question from Tamara, who wrote in response to Anna's post on getting rid of that "boy bathroom smell!" She asks:
Any tips on how to clean a toilet, under the tank on the back ledge of the bowl, ya know that little space straight in front of a 4 year old's aim?
HOW TO CLEAN A TOILET (THE BACK LEDGE, UNDER THE TANK) TUTORIAL
Here's what you'll need:
Flat head screwdriver
Cleaning supplies – disinfectant wipes, like these
Cleaning gloves
That is kind of a tricky little place to get into! I would first try using an old toothbrush. If that's too thick, grab a plastic knife, wrap a disinfectant wipe around it, and slide it along. If the toilet seat seems to be in your way and you have an extra 10 minutes, take it off. This will not only give you more room, but it's great for getting around and underneath the hinges of the seat, which are also hard areas to clean. If you don't know how to take the seat off, no worries – read on!
HOW TO REMOVE A TOILET SEAT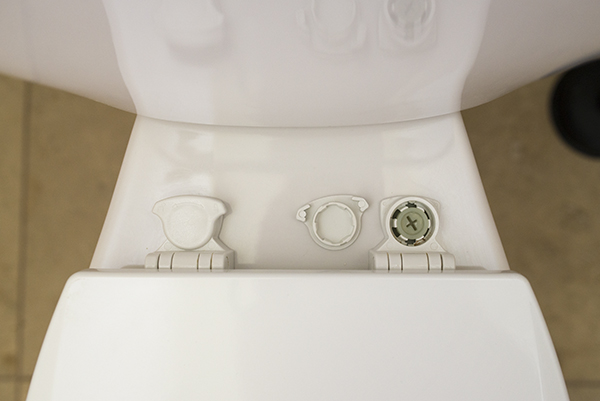 Step 1: Use your fingers to pull the plastic covers off the hinges.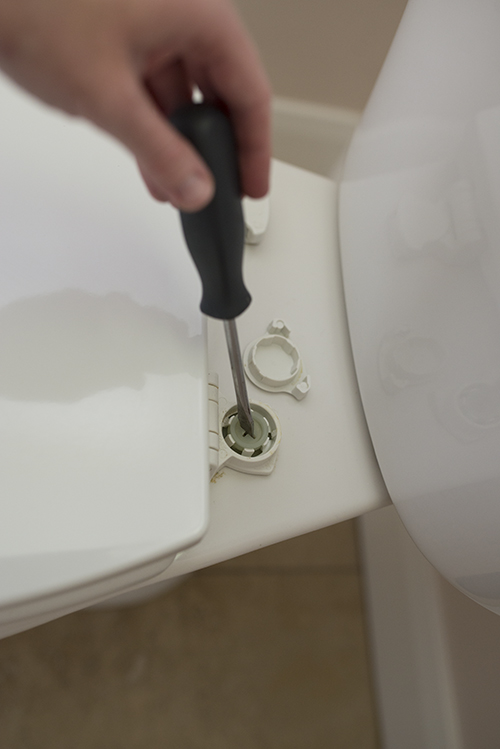 Step 2: Take your flat head and turn each screw counterclockwise until either the screw itself pulls out or the the entire seat pulls up.
On the underside, you can see there is a bolt. It may help to hold the bolt with one hand while unscrewing with your other.
Break out the screw driver! Begin by removing the toilet seat. It is fairly simple. For more pics check out the blog post below.
Click 'Next Page (>)' to keep reading and don't forget to SHARE with your Facebook friends