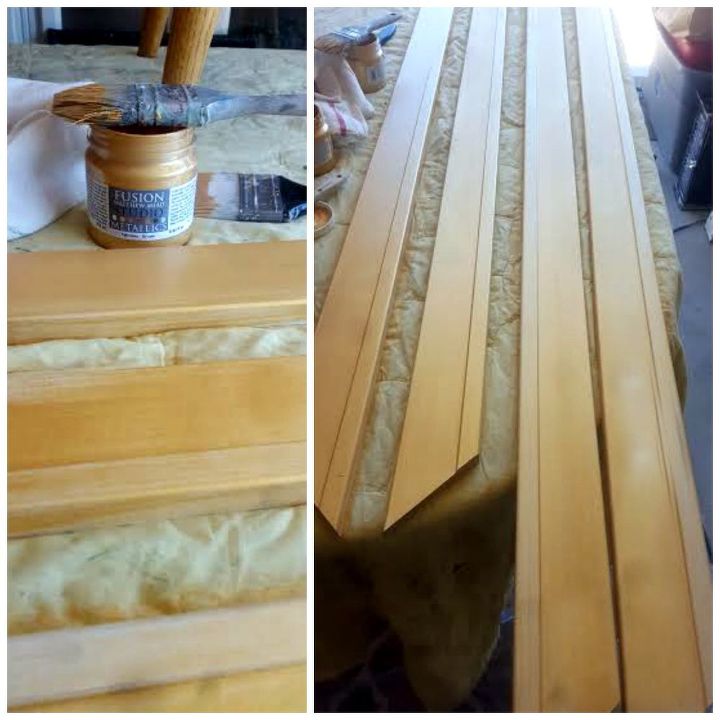 I started my search for art. I found wall paper but I just know my patience level can't handle that. Then I thought, what is like an art print but comes in a giant size, and cost's no more then $100? So I punched in shower curtains on line…. I found a polyester shower curtain and I instantly knew it was made for me and my half bathroom and a whopping $68 usa. Being in Canada and adding 30% more for the exchange still makes it under $100 and for an art piece that size I won't find a better deal. I ordered it! (source on my blog) I now needed a huge frame so I had my husband cut some casing for me in the shape of a picture frame. I am an artist who has a studio at home and I have amazing products on hand at every moment. I grabbed my Fusion Mineral Paint soft gold metallic and got painting the frame.
We then layed out the shower curtain and upholstery stapled it to the top frame piece so we had a starting point when we hang it on the wall. I folded the sides in to make it more proportional on the wall.
Once we nailed the initial piece of frame to the wall we carried on adding the frame and pulled the curtain tight as we continued to nail it to the wall until the frame was complete.
Oh My Goodness it's turning out just like it did in my head!! I added some small Whimsical decor items and BAM done! I wanted it to look like a giant framed art piece that sweeps you away if even for a moment!
This small marble top table was found at the thrift store. The swan and her pearls is a piece I've had for years!
I love the flowers and the airy little shelf.
Here is a closer shot of the print. So romantic. I love the lanterns coming out of the castle at night but I super love the little couple in the boat! This curtain is polyester and water proof.