Cleaning supplies made from from all-natural green cleaning ingredients such as vinegar, baking soda, Castile soap and hydrogen peroxide are amazing! In the correct combinations these green cleaning ingredients can leave your whole house sparkling (for only a few cents) while eliminating the need for toxic household chemicals.
Unfortunately…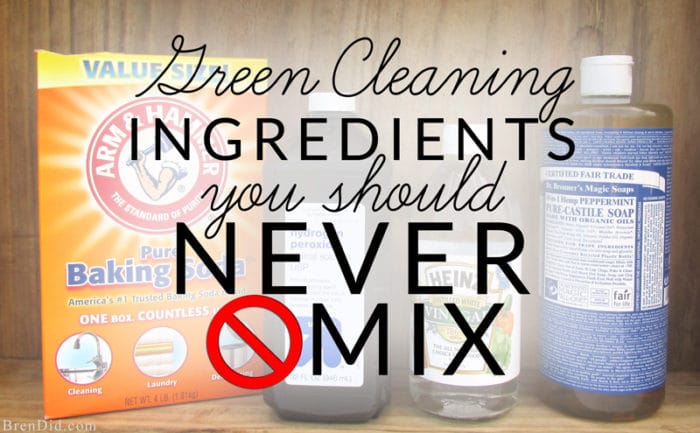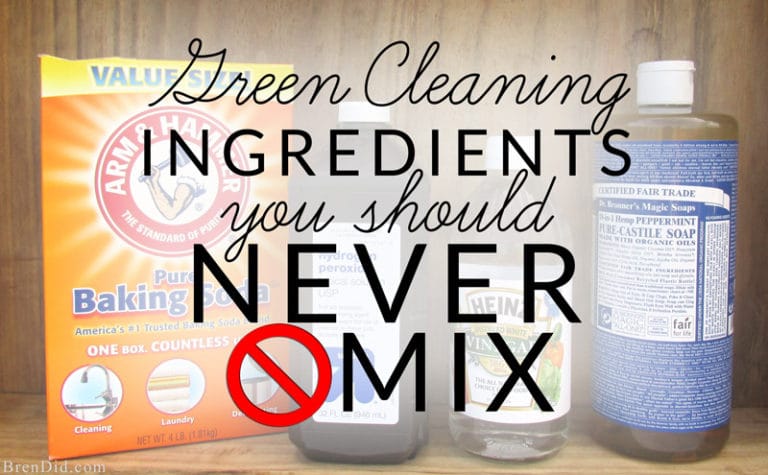 Many natural DIY cleaner recipes found online combine ingredients that should NEVER be combined.
Some of the combinations simply neutralize one another, killing their cleaning power and wasting your money… while other combinations can produce dangerous reaction that can damage your lungs or home surfaces.
INEFFECTIVE GREEN CLEANING INGREDIENTS
There are three green cleaning ingredient combinations that should NEVER be used in one DIY cleaning recipe. Learn about these ineffective combinations: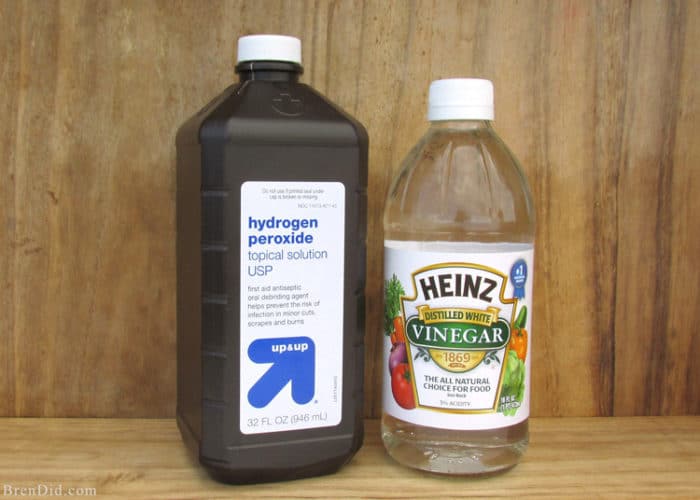 1. HYDROGEN PEROXIDE + VINEGAR = PERACETIC ACID
Hydrogen peroxide and vinegar are both great natural cleaners and sanitizers, BUT combining them in a container creates a corrosive acid.
The risk: Bodily damage and/or damage to household surfaces. Vinegar and hydrogen peroxide create an acid when combined. Peracetic acid can irritate your skin, eyes, and respiratory system and can be corrosive to household surfaces.
How to use them effectively: You can use hydrogen peroxide and vinegar while cleaning, but always think of them as one-two punches…NEVER mix them into a cleaning solution bottle!
When I want to disinfect I simply screw a spray top onto my hydrogen peroxide bottle and another spray top onto my white vinegar bottle. I then  spray and wipe with one cleaner and then the other. (This makes a great bathroom disinfecting cleaner when kiddos are sick.)
If you want a disinfecting cleaner you can mix and store in a bottle safely, try my Lemon Infused Disinfectant Spray Cleaner recipe or Natural Fabric and Room Refresher recipe (it doubles as a surface disinfectant) both disinfect the whole house!
For Keep Reading Please Head On Over To Next Page Or Open button (>) and don't forget to SHARE with your Facebook friends